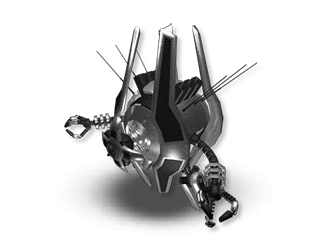 This robot services your ship, while you are in space. He repairs your shield every 10 seconds during your visit to space. At three bronze stars he will heal 1000 on all assault ships, even if it is higher. Same with Battle ships too. Can be upgraded to 3 Assault stars, 3 Battle stars, and 3 Capital stars.
The Mechanibot lasts only 3 hours
Building/Upgrading:
Edit
Material Requirements (note: the material requirements changes every level, this only indicates how much resources you need for building level 6 Mechanibot)
Other way of obtaining the mechanibot is buying it via the In-game Shop. The price depends on how high the level of the mechanibot is. Higher level means more expensive mechanibot.
Upgrading Statistics
Level
Gear
Ball Bearing
Controller
Prod. Time
1
16
8
4
2h
2
20
10
5
6h
3
22
11
6
12h
4
30
15
8
1d
5
36
18
9
1d 12h
6
42
21
11
2d
7
55
28
14
2d 6h
8
70
35
18
2d 17h
9
100
50
25
3d 3h
Repair Power per level:
| Level | | | |
| --- | --- | --- | --- |
| 0 | 300 | 500 | 386 |
| 1 | 500 | 625 | 644 |
| 2 | 700 | 875 | 901 |
| 3 | 1000 | 1250 | 1288 |
| 4 | 1200 | 1500 | 1545 |
| 5 | 1400 | 1750 | 1802 |
| 6 | 1800 | 2250 | 2318 |
| 7 | 2100 | 2625 | ? |
| 8 | 2250 | 2875 | ? |
| 9 | 2500 | 3125 | ? |